I've decided to post about things I am interested in as well as my regular photographic activity.
I've always been interested in health & well-being (I even have an entire portfolio dedicated to the subject). Recently, however, I have been getting creative in the kitchen, pushing myself in my athletic endevors and learning more about all the different diet lifestyles out there. I'm not an extremist and honestly don't have enough faith in myself to dedicate entirely to one practice. I cannot see it easy eating Raw or even Vegan. I do like educating myself about the practices and feel that if I can adapt certain prinicples from each approach I can achieve greater health and energy.
I'm not sure if these bars are considered Raw or not. Where is the threshold on Raw cooking. Is it zero or a little? (please feel free to educate me on this!) These bars are put in the oven at 325 degrees for 25 minutes. Raw or not- they're delicious, filling and yes, healthy! I found this recipe on Muliply Delicious.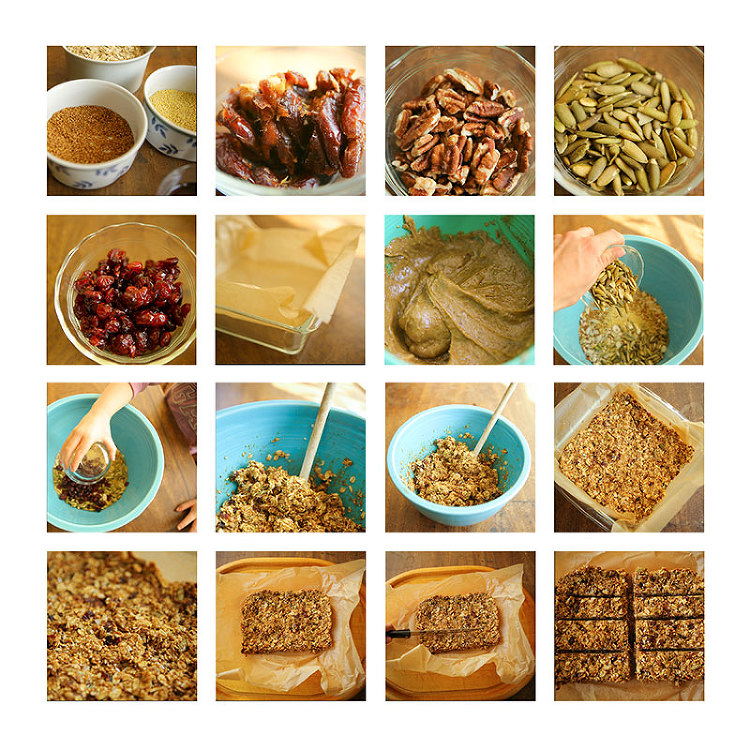 The [Almost, Maybe, I think?] Raw Granola Bars
Ingredients:
2 cups old fashion rolled oats
1/2 cup millet
1 teaspoon ground cinnamon
3/4 teaspoon ground ginger
1/2 teaspoon salt
1/4 teaspoon nutmeg
1/8 teaspoon cloves
1/3 cup maple syrup (Darker if you like sweet, Lighter if you are so-so)
1/4 cup honey
1 teaspoon vanilla extract
1 cup medjool dates, pitted
1/3 cup pecans, chopped
1/3 cup roasted unsalted almonds
1/3 cup pumpkin seeds
1/2 cup dried cranberries
1/2 cup mini chocolate chips (optional)
Instructions:
Preheat oven to 325 degrees.  Line an 8×8-inch baking pan with parchment paper with edges coming over sides.  Set aside.
In a large bowl toss together oats, millet, pecans, almonds, pumpkin seeds, cranberries, and mini chocolate chips.
In a bowl of a food processor, combine the maple syrup, honey, vanilla, and dates.  Pulse together.  Add cinnamon, ground ginger, salt, nutmeg, and cloves.  Puree mixture.
Add date mixture to oat mixture and stir to combined.  If mixture is not wet enough add a tablespoon at a time of maple syrup.
Press the oat mixture into prepared baking pan.  Bake for 25 minutes.
Remove pan from oven and place on a wire rack to cool completely.  Once cooled, lift sides of parchment paper to release from pan.  Place on cutting board and cut granola bar.
Bars can be stored in refrigerator or even frozen.
Makes 8 to 10 bars.